A new collaboration with an old friend has resulted in world-class gas sampling systems being manufactured right here in New Plymouth.
We're proud of a new collaboration with an old contact. Our friends at QMI Integrated Solutions, led by industry expert Guillermo Gentile, set the benchmark in engineering gas sample conditioning systems.
This collaboration has resulted in some high quality, great-looking gas sample conditioning systems being built to QMI Integrated Solutions' design in our New Plymouth manufacturing facility.
Gas sampling system
A well-designed and engineered gas sampling system is crucial to…
Ensure sample reliability
Optimise costs
Ensure the quality of process outputs
Provide timely and accurate sampling to an analytical tool such as a mass spectrometer or gas chromatograph.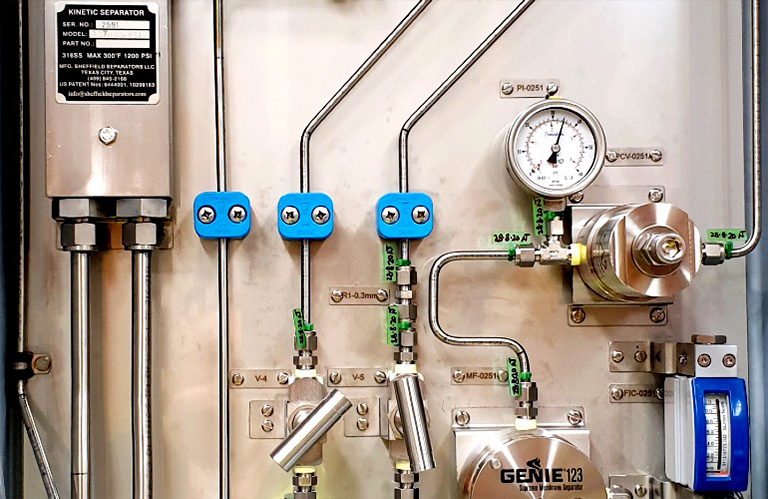 Gas conditioning system
The sampling system conditions the gas sample to ensure it is free of moisture, particulate or any other impurities which can affect the accuracy of the analysis. These systems are used for both process control and sales gas metering applications.
Entec experience
Entec's instrumentation & electrical projects team has a long and proven track record in the design, manufacture and field installation and commissioning of pneumatic control systems, dosing systems and sampling systems.
Recent projects
QMI and Entec have teamed up on a couple of recent projects in the oil, gas and petrochemical market.
QMI has the client interface and carries out engineering and design, and supplies the key components.
Entec applies its experience to carry out a constructibility review, and then manufactures the panels.
Following QA checks and factory acceptance testing, Entec carries out the field installation and QMI commissions the completed system.
This is a valuable and successful collaboration which offers the joint strengths of both businesses to provide clients with the assurance of a superbly engineered, built and installed gas sampling system.
If you'd like to hear more about our work alongside QMI Integrated Solutions, or if you have any requirements for instrument tubing, pneumatic systems, dosing or sampling systems, get in touch now…